Feel free to download and print this two-sided card. It also can be posted and shared on Facebook. Truly a help and encouragement for all who want to understand and support those with PTSD!
If you would like some of these 5 x 7 glossy cards to distribute (no charge), please contact us at info@loveourvets.org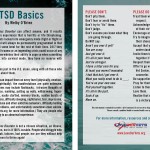 For more information about PTSD, and a larger version of this PTSD Basics card please visit www.LoveOurVets.org.