Little Did I Know
By Welby O'Brien
"Don't break a leg hurrying!" I growled as he sauntered sluggishly across the street in front of me while I impatiently held the brake.
Little did I know he was wracked with cancer, and is doing his best to just get through today.
"That guy is kind of strange. Can't figure him out. He should just get over it," I deemed.
Little did I know he was a wounded warrior who selflessly fought for his country, forever haunted with the horrors of war, and is doing his best to just get through today.
"Idiots…all of them! Why don't they hire employees who actually have functioning brain cells?" I ranted under my breath.
Little did I know she buried her baby yesterday, and is doing her best to just get through today.
How different the world would be if we all walked
a mile in each other's shoes.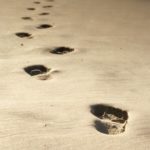 "Judge not, that you not be judged." (Matthew 7:1)
♥

***************************
Welby O'Brien is crazy about her veteran husband, and together they find fulfillment as they face the relentless challenges of PTSD. With a Master's degree in counseling, she has authored the books Formerly A Wife (divorce support) and Good–bye for Now (grief support) (Moody/WingSpread), as well as contributed to Chicken Soup for the Soul (Divorce and Recovery) and (The Spirit of America), and Shepherding Women in Pain (Moody). And most recently LOVE OUR VETS: Restoring Hope for Families of Veterans with PTSD (Deep River Books). Welby has been welcomed as a guest speaker across the country, and on radio and television. Welby initiated and continues to facilitate the spouse and family support network known as Love Our Vets – PTSD Family Support, LLC.